I've been meaning to post about my horrific experiences with Turkish Airlines for a few weeks now, but I thought I would give them the benefit of the doubt and the opportunity to undertake some service recovery before I spread the word about what a terrible, terrible airline they are. Unfortunately my recent communications simply confirmed that they offer some of the worst customer service in the aviation industry and therefore as a travel influencer I feel it my duty to share my experiences with the traveling public and to help anybody who may be thinking about flying with Turkish airlines avoid having similar experiences (or at least be able to make an informed decision when booking with Turkish Airlines!).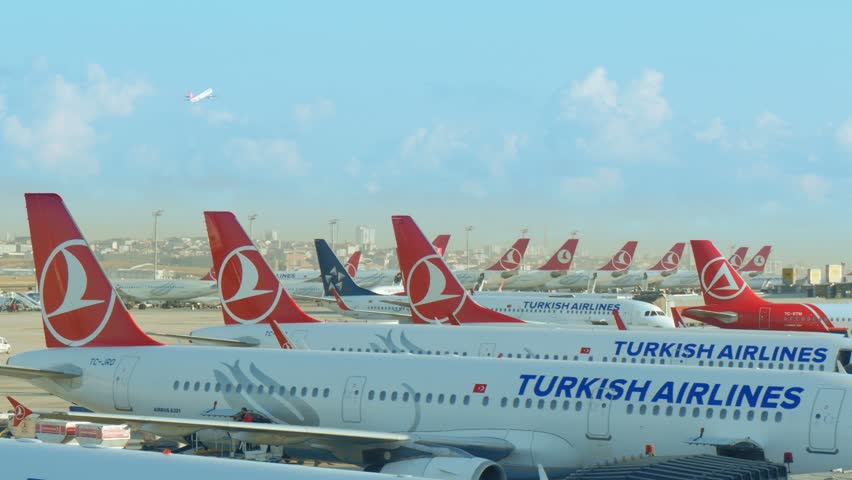 Constant Flight Time Changes
It all started last summer when I booked my flights to Abu Dhabi. All seemed fine, until every few weeks I received an e-mail saying that my flight time had changed. Connection times, departure times and arrival times were all amended on multiple occasions and my inbox was full of e-mail after e-mail. It was very confusing. At the time, although rather irritating, this didn't particularly phase me. I later met other travellers, however, who had had their travel times amended by as much as a day! This is completely unacceptable.
Delays and Cabin Crew Lies
So Christmas time arrived and my husband and I left London Gatwick for Abu Dhabi. That's when the dramas began. We were delayed. Yes, these things happen and as an experienced traveller and academic in tourism and aviation I was very aware of this. BUT I do expect for the airline to communicate with me. But nothing, no communication until we were required to board the aircraft… good job I was sat near a screen! We eventually took off for Istanbul where we would take a connecting flight to Abu Dhabi, or so we thought.
The aircraft was full of anxious connecting passengers who were scheduled to travel all over the world. People asked the crew if they would make their connection and they were all assured that the aircraft were waiting for us because there were so many passengers and that the ground staff would meet us on the ground. This provided some much-needed reassurance as we were due to arrive approximately two hours late. Normally flight connection information would be available via the in-flight entertainment system, but this feature appeared not to be working (or had been switched off?). You would also normally be given an update on your ETA and connection information from the cockpit, but this also did not happen.
Just as we thought we were coming into land the aircraft began to climb again. We were all watching on the screen displaying the route map and it was clear that we were being held and subsequently circling around the airport. We circled, and circled, and circled. We were at no time updated by the pilots or the cabin crew. Passengers began to get angry, they could probably see the aircraft they should be on fly right past us. A bunch of us (who still had a chance of making our connection) all relocated, without permission, to business class stating that we must be the first to disembark. After circling for an hour (making us over 3 hours late) we landed and passengers all got up and took their luggage down from the overhead lockers before the aircraft came to a standstill. The cabin crew tried to ask people to sit down, but they now had an aircraft full of ANGRY passengers! 
Stuck in Istanbul for Hours
About a dozen of us all ran off the aircraft and across the air bridge to find that the ground staff had not been informed of our connecting flights, there was nobody to meet us and the flights were not waiting for us. The cabin crew had blatantly lied to the passengers on-board.
We all then made our way in convoy to the Turkish Airlines desk, where they proceeded to deal with the many, many complaints and missed flights. Despite being at the front of the queue (as a result of our quick escape off the aircraft), it took around an hour to book us onto a new flight, which would not be until the next day. There were babies being changed on the airport floor and children crying. One man became aggressive in his anger towards the Turkish Airlines staff and was taken away by security.
The next hurdle was to find our bags. Despite telling the staff who booked our new ticket that we will be requiring our bags for our overnight stay in Istanbul (which wasn't exactly where I wanted to be given the recent terrorism events), they were checked through to Abu Dhabi. Therefore we once again met our new acquaintances from our original flight at the lost and found counter. Here the staff were more interested in having a chat than finding our bags. We spent another hour here.
Lastly, we had to go to the accommodation desk to be booked into a hotel for the night. It was only now that I realised just how many passengers had missed their connecting flights with Turkish Airlines. The queue was almost through the airport door! Passengers had travelled from all over the world and were now stuck waiting for a hotel because Turkish Airlines had caused them to miss their flight.  


Discrimination Against Women and Pregnant Women at That!
We left home at 6am. It was now almost midnight and all we had been given to eat was some sloppy cheesy egg and spinach (which was discussing by the way!). I was under the impression that when you were delayed the airline is obligated to provide you with some food and drink vouchers. All of the passengers were hungry and tired, but at 6 months pregnant I was beginning to feel ill. I didn't want to endanger my unborn baby by not eating, but I didn't have any Lira to buy anything, after all we were not supposed to be in Turkey!
I asked the staff if they would be providing any food or water. I was ignored. I then politely asked again, assuming perhaps that he had not heard me. I was ignored. On my third attempt I began to raise my voice. I was ignored. This infuriated me, but I think it infuriated my husband even more. He's not really the clingy, affectionate type, but when he can see that somebody is treating me badly it does make him extremely cross. He demanded that the staff member listened and responded to me.
By this time there was quite a large crowd forming around this staff member. Many of the passengers were also female and were also being ignored. Several people started shouting at this man and standing up for me, not only was he being extremely rude, but I was also telling him that I was feeling faint as I was quite clearly 6 months pregnant, and I was continuing to be ignored. Eventually the man responded saying that he would not provide any food or drink and walked away.
Now I have faced challenges like this many times before when dealing with Arabic men. I've travelled Israel, Palestine, Jordan, Egypt, Turkey and the UAE. I am very aware of how women are often treated (and ignored) and as much as I disagree with the attitude, I accept it because that's what travel is all about- living within and learning about other cultures. But in an international airport, in international air space and with an employee of an international airline I found this simply unacceptable. Oh and in terms of the legal requirements- you must be delayed over 3 hours to be entitled to any compensation, including food. Despite being held in the airport for over 3 hours in addition to the 3 hour delay I had already experienced (plus the 4 hour flight), legally all that is counted is the delay between the time in which you were due to leave the gate at your departure airport and the time that you actually left the gate, which in my case equated to approximately 2 hours. I was legally entitled to bugger all and Turkish Airlines knew it.
Stone Cold Food and a Hotel on a Building Site
At around 12.30am we finally arrived at a Novotel in the city centre, around a 30 minute drive from the airport. There was a bus full of people and so it took around an hour to check in. We were then finally given some food, but this took around another hour and consisted of a very small portion of stone cold chicken and chips (cold chicken isn't so bad but the chips were simply repulsive). I managed to sleep for around 5 hours until the building work started the next day. As the hotel was located right in the middle of a building site it was extremely noisy.
A couple of hours later and we were back on the bus to the airport where we took a rather less dramatic onward flight with Etihad.
Delays, Lies and More Delays
On our return home we were met with yet more dramas. Our flight was once again delayed and once again we were given no advice or communication. After waiting in the airport for around one hour we boarded the aircraft.
There was, however, extremely thick fog and I was surprised that they were getting us onboard, although now it makes sense. It's that darn 3 hour rule again isn't it! We took off 4 hours late in the end, but according to the paperwork we left the gate just 1 ½ hours late, so once again no compensation would be owed.
For hours the aircraft sat on the ground. We drove around and around in circles. The pilot slammed on the brake on several occasions, which given the fog and the dangerous circumstances in which to be attempting to take off, really scared me. We spent more time driving around the airport than we did in the air. At 6 months pregnant I was extremely uncomfortable, if I had wanted to sit on an aircraft seat for this length of time I would have booked a holiday somewhere further afield. I had arranged to take such short flights for this precisely this reason.
Once again on landing we were required to race to our connecting flight. We were given no information about gates etc once again and I have no idea what the captain said during his announcements because his accent was so thick. I arrived at the aircraft in tears, having been made to run for about 20 minutes through the airport. Anybody who has ever been pregnant will understand that this was no easy feat for me. Again, I had been provided with no food apart from some more cheesy egg and spinach.
The Impossible Complaints Procedure
Needless to say, I believed all of the above warranted a pretty hefty complaint. Not only had my husband and I not been compensated for being delayed over 3 hours (which despite arriving over 3 hours late to our final destination, according to the 'rules' we were not late enough because we left the gate at our departure airport within 3 hours), but we had also experienced TERRIBLE customer service.
We were told to contact the airline to get a refund for the Turkish visas that we were forced to buy in order to stay the night in the hotel so this was a good starting point for our complaint. We were told that the cost of these would be refunded, however there was no online system to allow for this (despite them being perfectly happy to take our money online). Instead we were required to go to the nearest ticket office which is at London Heathrow. So, in order to obtain this refund it would cost me a thirty minute drive plus airport parking rates. Seen as the cost of the visa was only £20 it really wasn't worth the expense as I'd be lucky to have a couple of Pounds back in my pocket at the end of it.
I also attempted to contact the airline to inform them of the bad customer service that I had received. This was, however, was easier said than done. There is no direct e-mail contact- clearly Turkish airlines do not want to hear from their customers! So, I tweeted them. With over 22k followers it was no surprise that they quickly responded and opened a 'case file' for me. I could then respond to a staff member with my complaint.
My success, however, was extremely short-lived. Despite providing a detailed account of what had happened, informing on the staff about the sex discrimination I had experienced along with the danger that me and my baby had been put in by being provided with only a small breakfast of spinach eggs the entire day, my remarks were ignored. Instead the customer service representative responded to state only that because the delay (according to gate departure times and not the arrival times) was not beyond 3 hours we qualified for nothing, apparently not even an apology. The case was then 'closed' and the e-mail contact shut down so that I was unable to reply. This left me infuriated and vowing that I would NEVER fly with Turkish airlines again. 
A Breach of Human Rights
All in all, I felt that the whole experience was in breach of my human rights. This would be a bad experience for any person, but especially for somebody who was 6 months pregnant. As a customer I felt that the airline did not value me at all. I did not feel safe due to be provided with no food, being ignored by the customer service representative when I stated that I felt unwell, being forced to stay overnight in a city which is on high alert for terrorism and by the repetitive slamming on of the brakes when taking off in dangerously thick fog (check the weather report for Abu Dhabi 2am 29/12/16- you'll see). I was treated with disrespect by the man who ignored me at the airport and by the crew who told us blatant lies to avoid confrontation with the passengers. I was not treated appropriately when no information regarding delays and connections was provided.
I have written this post not only to let off some steam as I sit here 39 weeks pregnant and still no sign of my baby making her debut, but also to inform potential Turkish Airline customers. Unfortunately, my experience is not an isolated incident; I met dozens of fellow travellers that were equally unhappy. Turkish airlines might offer you the cheapest flight, but you have to ask yourself 'is it worth it considering the safety risks and the potential dissatisfaction? Not to mention the impact this this may have on your holiday (I missed an entire day of a 5 day trip over Christmas).' Decide to fly with them at your peril, but at least you can now make an informed decision! Good luck and happy travels!
P.S. We did eventually have a lovely baby moon in Abu Dhabi!